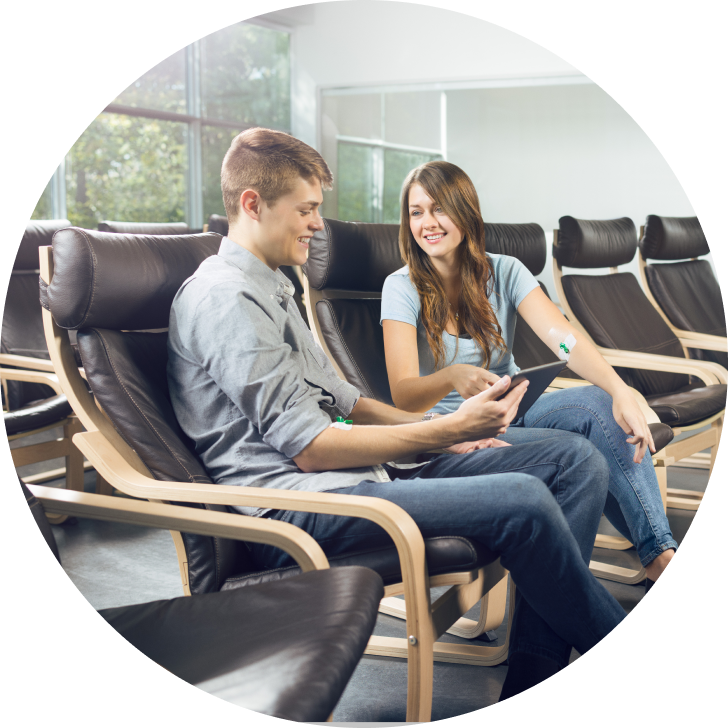 Why participate?
Clinical studies are crucial for the development of new treatments. The information collected during the volunteer test provides important information about how the drug is tolerated and how the body absorbs, breaks down and eliminates it.
Several reasons may motivate participation in clinical trials :
"Contribute to advancing medical research by participating in developing new treatments more responsive to the needs of sick people."
Enjoy a thorough medical examination with qualified experts.
Receive compensatory compensation for inconvenience (travel, stay, etc.)
A team at your service
Possible effects
Rigorous procedures
A decision that is yours
All of our clinical studies are supervised by qualified, trained and experienced doctors, nurses and technicians, who follow rigorous procedures. At each stage of the process, you will be mentored by our staff who will be happy to answer all your questions and needs.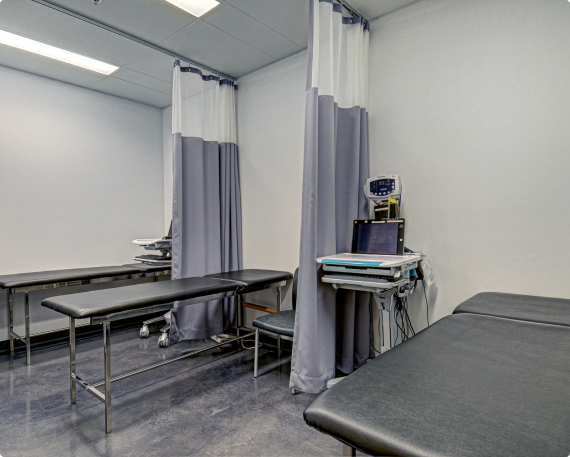 The steps of a clinical study
Before the stay expand_more
Become aware of the proposed studies
Check out the studies available online or by calling us at 1-866-262-7427. A brief telephone interview with one of our recruiters will verify if you can participate in a study. Subsequently, the recruiter will describe the studies offered according to your availability and will give you an appointment for a medical examination.
Consent form
Prior to the medical examination, an informed information and consent form accurately describing the drug in question, the duration of the study, planned tests, expected effects and potential risks will be provided. At this point, our medical staff will discuss the study with you and answer all your questions. You can then make the decision to participate in the study or not. It is recommended to inform your general practitioner and discuss with your doctor about your participation in a clinical study.
Health status assessment
Thereafter, your state of health will be evaluated as part of a medical examination. Upon receipt of the results of your examination and following the evaluation of your file by a doctor, one of our recruiters will contact you to confirm whether you are eligible to study. Please note that all information collected during the study will remain confidential.
During the stay expand_more
Stay at the clinic
For some studies, a stay in our clinic will be essential to control the environment and thus guarantee the accuracy and precision of the data. If this is the case, the average length of stay is 36 hours. Our facilities have rest areas. You will sleep in a room that can accommodate a maximum of 8 participants or in a dormitory. In addition, all meals are provided. Between tests, you will have a lot of free time. At any time of day or night, you will be supervised by our staff who will be happy to answer all your questions and all your needs. Some restrictions will have to be respected. You may be asked to avoid drinking alcohol or not eating certain foods during the study.
Medical procedures and tests
A clinical research study usually involves medical procedures and tests that will evaluate the effects of the drug in the study being tested, but most importantly, ensure your overall health and safety. Some of the medical procedures and tests may may be performed more than once, depending on the study.These procedures and tests may include, but are not limited to, the following:
urine sample and blood sample
vital signs (blood pressure, etc.)
Computer balances (balance, coordination …)
Body Mass Index (BMI)
After the stay expand_more
Follow-up visits to our facilities may be necessary to determine how long the medication stays in the body and to follow up with a doctor to ensure your safety. During your last visit, you will receive the last payment of your compensatory allowance.
Testimonials from participants
Jean of Montreal
It has been almost 4 years since I participated in clinical studies at Syneos Health. The staff is competent and takes good care of us. It always gives us the taste to go back.
Jocelyne from Lévis
Participating in a clinical study scared me a bit, but the employees know how to make us feel comfortable. I finally enjoyed my experience.
Marc-Antoine from Limoilou
When you visit Syneos Health, you are welcomed and treated like royalty!
Recommend a friend and you will be doubly rewarded! You and your friend will receive compensation up to $ 200
Learn morearrow_forward