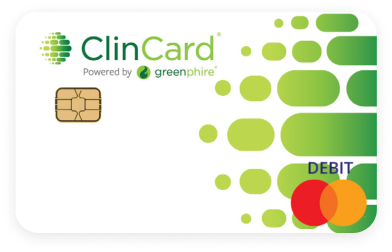 ClinCard is a rechargeable debit card used to manage your compensation.
WHY HAVE WE CHANGED
Using ClinCard will facilitate the participant compensation process. You will be able to access your compensation more quickly.
Payment by debit card has many advantages and it is a secure payment method:
No lost checks or cash.
The amount is available as soon as it is deposited on the card.
No personal bank account is required to access your money.
Your card can be used to make purchases in stores and online, and to withdraw cash at an ATM.
You can access your personal information online, including your transaction history and your current
balance.
Activating YOUR CLINCARD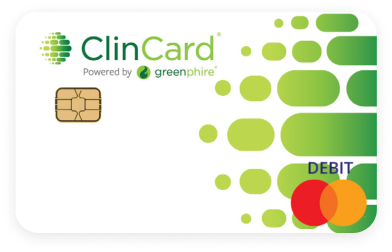 KEEP IT SAFE.
Your card will be provided to you by a member of our team during your medical evaluation or during the study.
Please sign the back of your card and call customer service to activate your card and obtain your PIN. A copy of
the activation instructions will be provided to you along with your card.
Your ClinCard is rechargeable, and any future compensation will be deposited to your card automatically.
Using YOUR CLINCARD
Your ClinCard can be used at any point of sale, such as:
ATMs
Grocery stores
Gas stations
Shops and restaurants - Online
Online payment of certain bills
Each time your ClinCard is used, the amount of the purchase is deducted from the available balance until the amount of the balance reaches zero. Once the total amount on the card has been used, the card can no longer be used as a payment method.
DAILY PAYMENT CEILING
You can complete transactions up to $6,500 per day:
$5,000 at points of sale and/or online
$1,500 at ATMs
You can complete a maximum of 15 transactions per day:
10 transactions at points of sale -and/or online
5 transactions at ATMs
The maximum amount of each transaction is $1,000.
This information is provided for information purposes only and may be subject to change.
ClinCARD FEES
GOOD NEWS!
Syneos Health will accompany you throughout this transition and is committed to providing you with compensation to cover your card's user fees (up to $20).
Automatic compensation is included in the total amount of the project.